FROM BIOGAS TO BIOMETHANE
ROM AWARENESS TO CONCRETENESS, FOR A SUSTAINABLE FUTURE
Transforming organic waste into a renewable energy resource is an opportunity to be seized to reduce CO2 emissions.
Biomethane is the result of the biogas purification process maintaining those characteristics that make it suitable for entry into the natural gas network.
More specifically, at the end of the upgrade (purification process), the biomethane obtained contains about 98% methane and is chemically similar to natural gas.
The starting point is organic waste from which a renewable energy resource is created that brings important advantages:
Sustainability

Reduction of CO2 emissions

Reduction of gas imports

Development of the local economy

Transport with traditional infrastructures
In a world where it has become essential to act respecting the environment, the renewable source such as biomethane becomes an ideal solution that allows countries to reduce emissions in some difficult sectors, such as heavy industry and freight transport and, at the same time, improve the economy and security of the energy transition.
Biomethane and its destinations:
Refueling stations located more or less near the biogas production plant

Cogeneration in centralized plants

Domestic users (heating and cooking)
EVOTECK BIOMETHANE PLANT PROCESS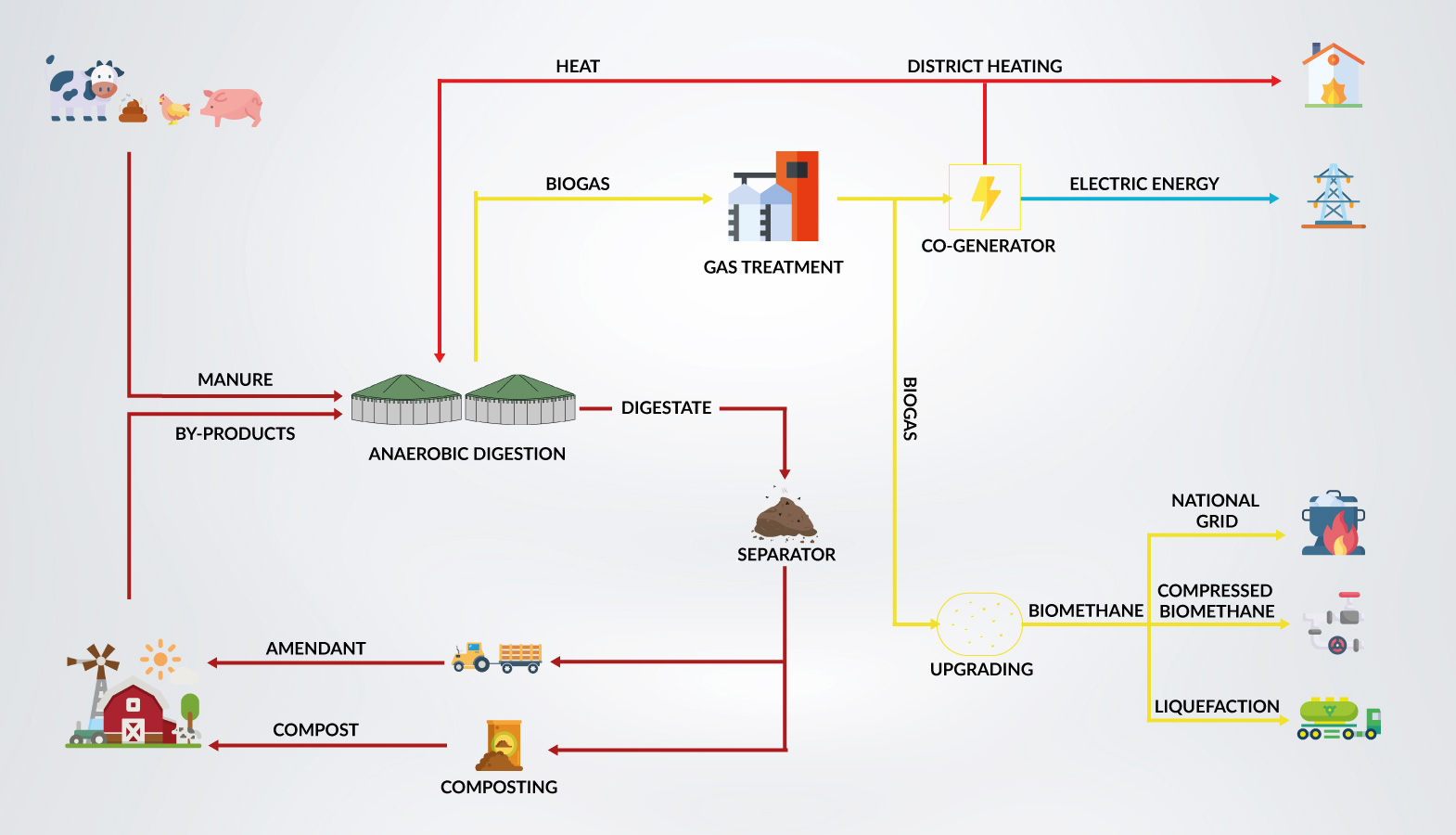 Biogas e Biomethane
Biogas is a form of renewable energy produced following an anaerobic digestion process of household waste, agro-industrial, agricultural and livestock waste as well as sludge deriving from purification.
Biogas is composed of methane and carbon dioxide and becomes biomethane only after the purification process. Biomethane therefore replaces methane from fossil fuels and positions itself on the market as a new form of sustainable and multipurpose energy.
Evoteck is able to design and build biogas and biomethane plants to meet the needs of farmers and waste treatment managers.
We design and build plants of 150 Nm3 / h of treated biogas throughout Italy. We supply "turnkey" plants and directly produce tanks, trenches, digesters, various structures and piping. For upgrading and liquefaction plants we rely on specialized partners in the sector.